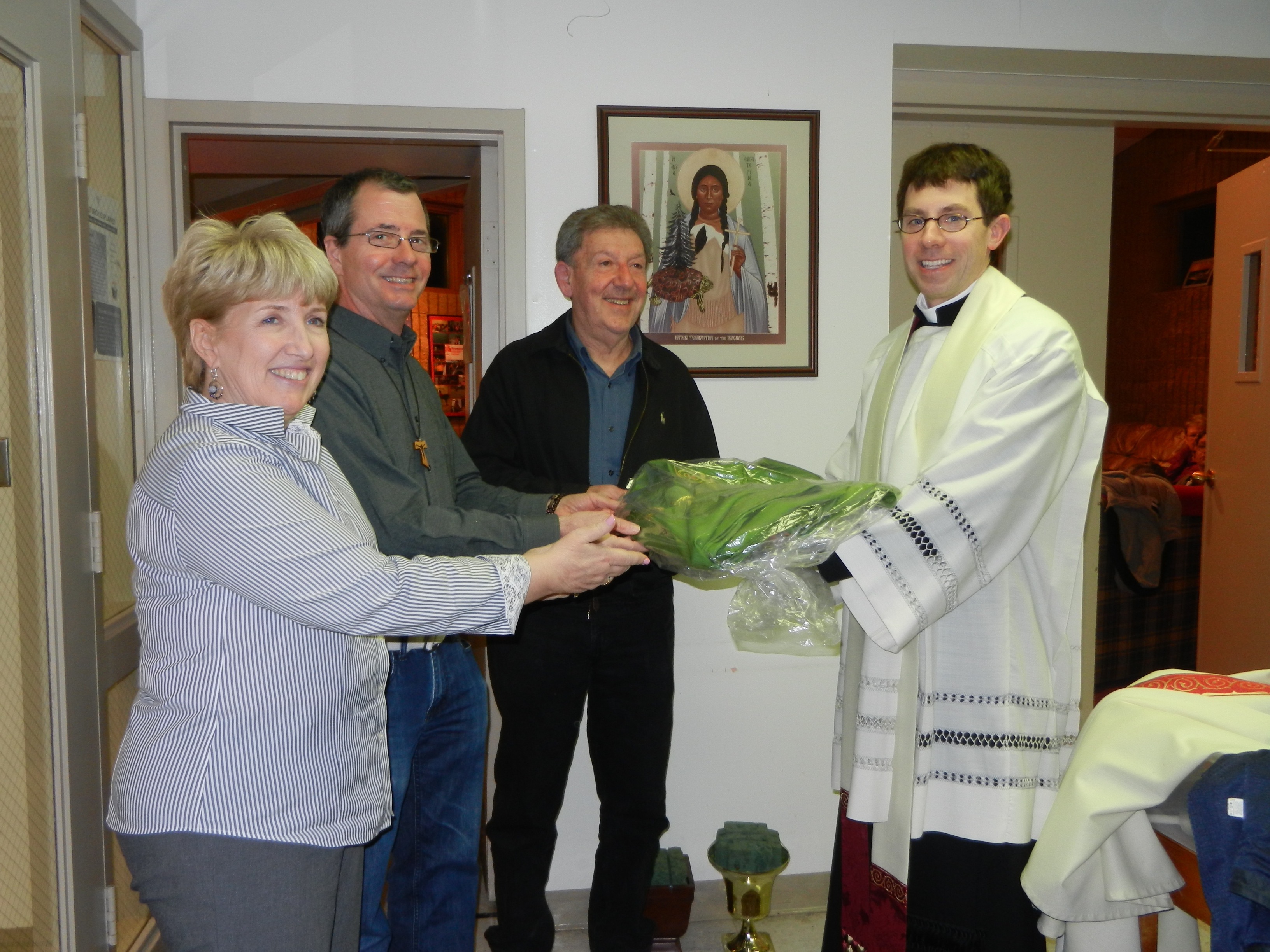 Plans for the 2016 visit to our sister parish in Haiti actually began even before Advent 2015 when the Haiti Ministry began looking for a suitable date to return to the mountains of Chenot to spend a long weekend with the parishioners of St. Anthony the Hermit and their pastor, Fr. Jude Cedule. Several February dates were suggested because this time of year is traditionally dry and travel there, while never easy, at least is not impeded by rain and mud. Interested to spend the close of Carnivale season and learn how the SAH community observes the celebration days preceding Lent, visitors opted for February 4-8. Plenty of excitement and often some anxiety are part of such visits. As the date grew nearer, though, all became very concerned of reports of Haiti's political unrest. General elections there had been postponed twice, and their president's term was officially scheduled to end on February 8. Should the trip be rescheduled? Such a decision had to be made with much prayer and frequent contact with Fr. Jude. Observations on his regular trips down the mountain and into Port-au-Prince suggested that street demonstrations were well controlled; he felt confident that by his careful arrangements, the visitors, Debbie Boyce, Frank Bonomo and Sean Hackett, would be safely met and safely returned to the city's airport. One week before their departure, plans solidified: the trip was a GO! Travelers were blessed at a Mass of Sending on Sunday evening, January 31 at St. Isaac's. Along with his prayers and warm personal greetings, Fr. Steven sent a heartfelt gift of vestments from sister parish to sister parish.
Thursday, February 4
At 4:00 A.M. SIJ travelers to Haiti packed minimal personal supplies along with gifts of hoodies for the elderly, fabric and supplies for the Women's Vocational school, mosquito repellent and treated netting for the infirmary and the all important water filters. David Boyce drove the team to National Airport in D.C. where they flew to Miami and then made a connecting flight to Haiti's capital, Port-au-Prince. By 1:30 in the afternoon, Fr. Jude was waiting in the parish "Jeep," to make the 2-hour drive to Desarmes where all were guests in his father's home overnight.
Friday, February 5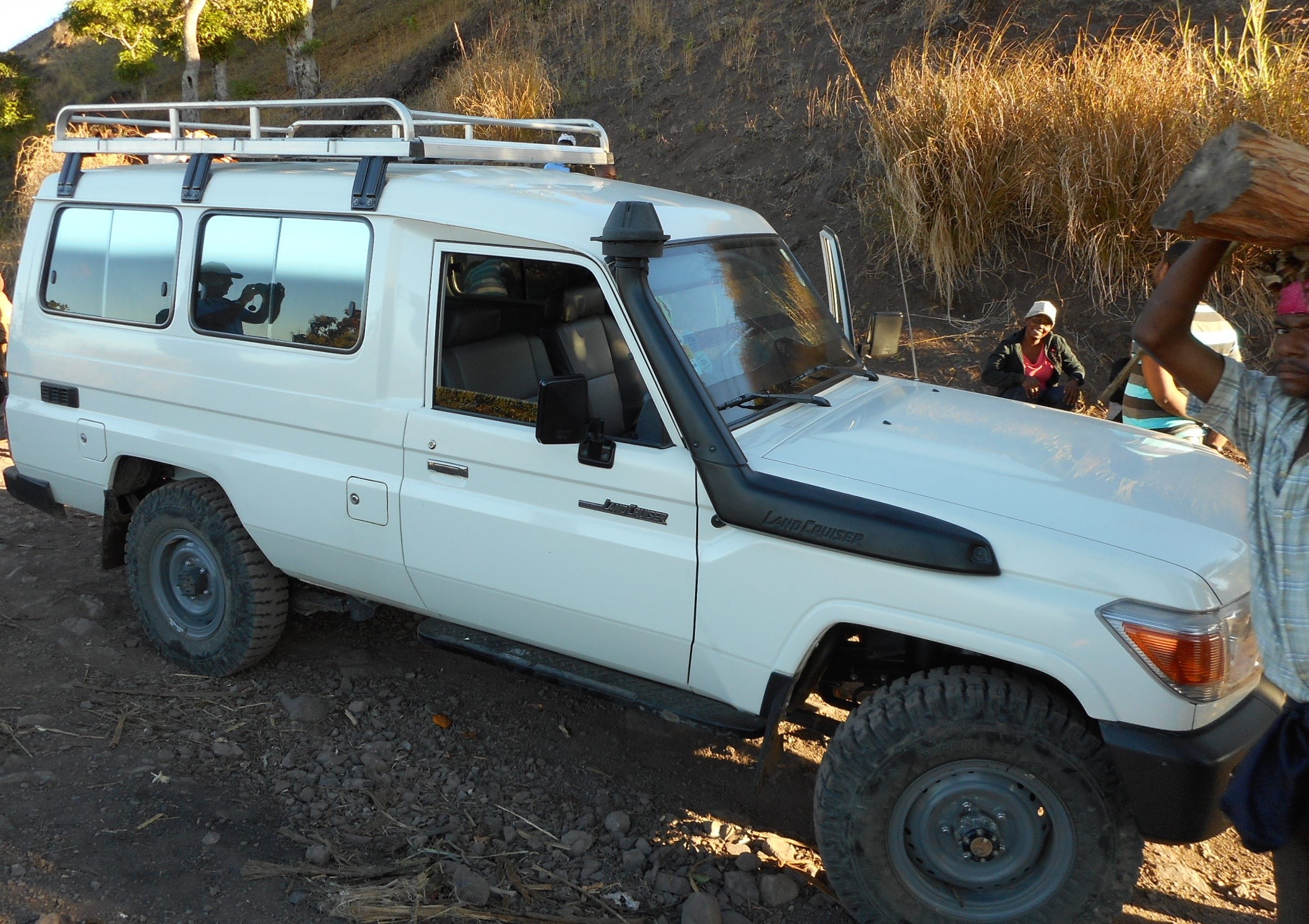 By 5:00 A.M. the "Jeep," actually a Toyota Land Cruiser, was packed and 2 young women, Dieumène and Anna, joined the group heading to Chenot. Although it was still dark, Haitians, illuminated by headlights, were already about their daily routines. Undaunted by the pitch black of early morning, locals walked everywhere with heavy bundles balanced on their heads. By sunrise the travellers reached Petite-Rivière, the last town before ascending the mountain. Here Fr. Jude picked up his "chauffeur," one quite experienced maneuvering the difficult road ahead. This ride, with its narrow places, rocky terrain, switchbacks and dizzying drops is like no other our visitors have experienced except in Haiti, they explained. It was absolutely necessary to hold on to something to be stabilized along the way. They were happy to have a pro at the wheel, in spite of the crowding!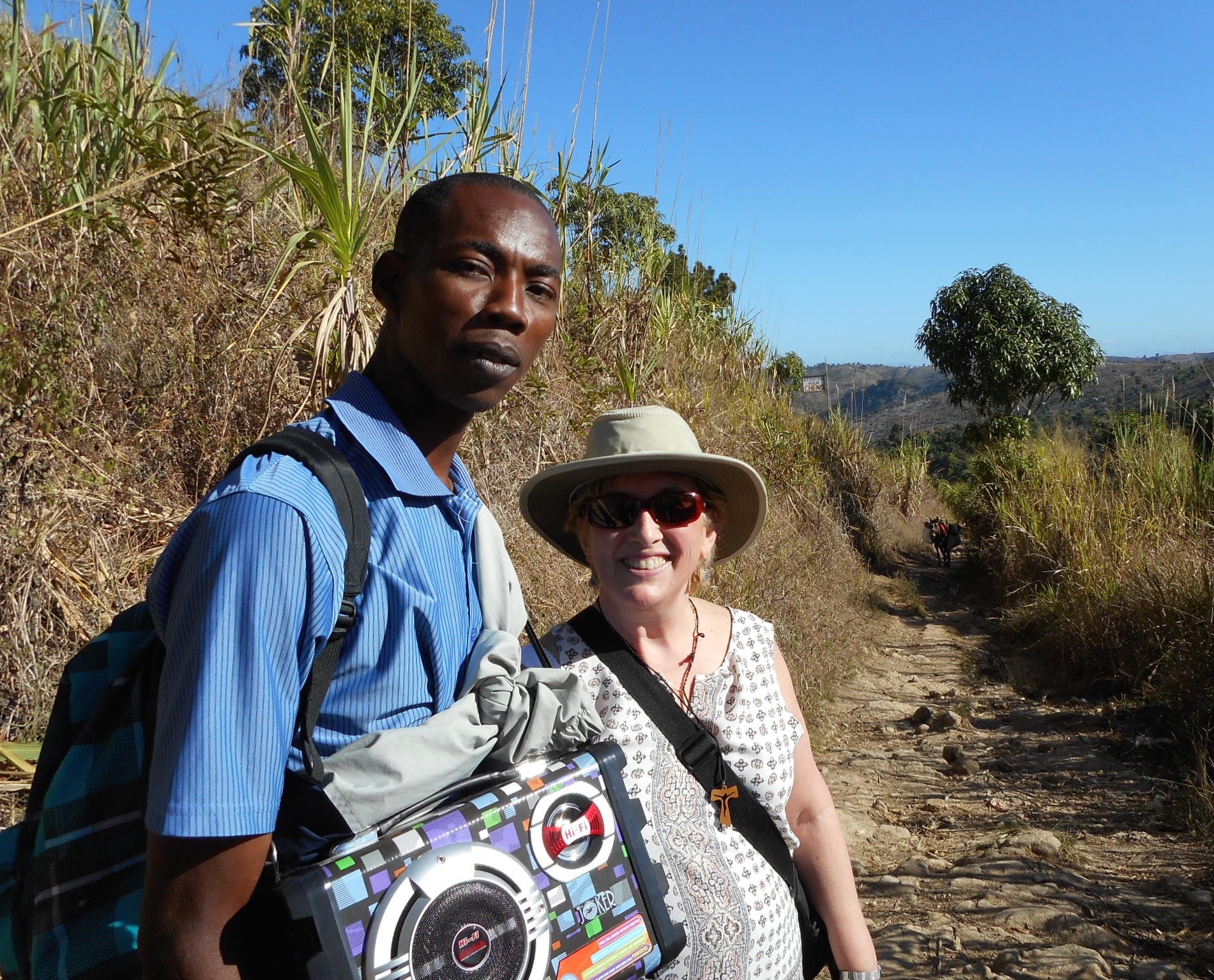 At about the midpoint of the drive, the vehicle stopped for the driver to lock the front wheels into 4WD, and so continued the long, slow climb with horn constantly tooting. There were ever-present people walking alone or with their goats or donkey or cow; sometimes the animals moved at the approach of the vehicle and other times they refused. Invariably, donkeys felt they had the right of way, always selecting the best section of path to travel. After nearly 2 hours of driving they arrived at the crossroads of BelAir, Cosabel and Chenot. It was no wonder both young women made the Sign of the Cross and smiled. It was wonderful to be met by several SAH parishioners and the familiar faces of Wilbert and Jean-Hubert who had been part of previous year's welcoming committees. But before making the remainder of the trek on foot, Fr. Jude was eager to take them on a short, but treacherous, detour to see the new chapel in the BelAir community. He was clearly proud of what his parishioners at this satellite chapelle had accomplished together by gradually amassing needed building supplies and undertaking the construction themselves. Two years ago, members of this community had requested $10,000 to replace the original one devastated by the 2010 earthquake, but their request was wisely ignored. The beautiful new chapel, nearly completed, serves about 500 parishioners, and Father is able to visit them there monthly.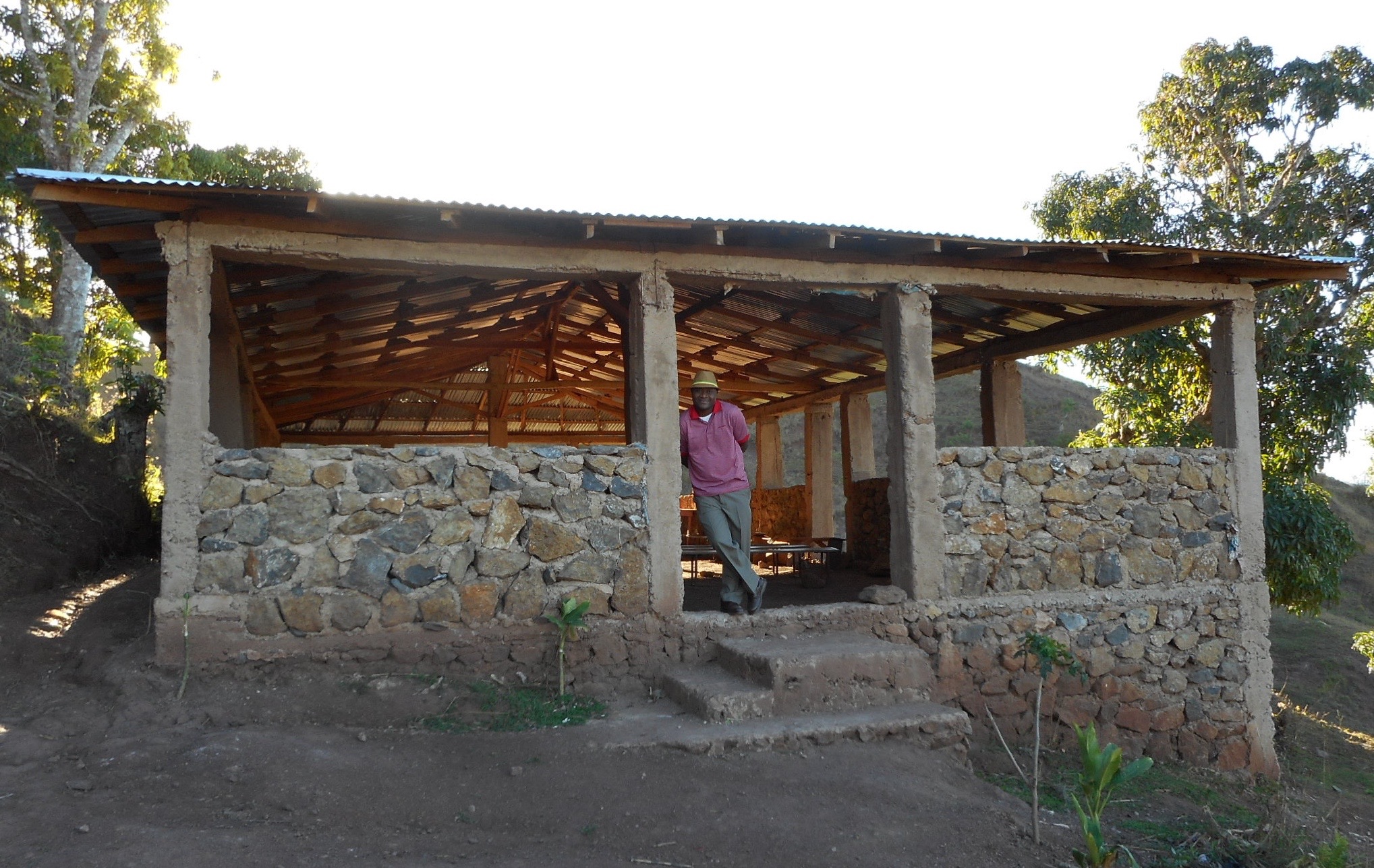 Perhaps it was a relief to get out and walk after such an uncomfortable ride, but the 90 minute walk also required careful steps on rocky paths with steep slopes with God's and Chenot's guardian angels nearby. Fr. Jude's people were waiting to meet the visitors and carry all their bags and luggage. Frequent stops were made along the way and everyone who saw the visitors called out greetings of "Bonjour! Comment nou e?" Apparently, Wilbert is the perfect guide because he knows everyone in greater Chenot, and absolutely everyone knows him and was anticipating the visitors from St. Isaac Jogues. Small gatherings of children along the path met the visitors with friendly smiles, and loved having their pictures taken. Sean knew they had arrived on the outskirts of Chenot because the dirt had turned red. At the elementary school the visitors met Sr. Filona, the principal of N.D. and Sr. Loudia who assists at the middle school in Cosabel. At the convent they met Sr. Emilie who leads the Women's Vocational school. The kitchen staff also greeted everyone warmly remembering Sean and Frank and welcoming Debbie.

The Friday before Ash Wednesday was declared a school holiday, but instead of staying home, students at Notre Dame de la Providence came dressed in their most colorful clothes and hats to celebrate Carnival. By 9:20 A.M. a large crowd had already formed on school grounds. An outdoor stage was constructed, and the students performed delightful skits and song and dance for their parents, teachers, neighbors and the travelers from SIJ. Instead of hot lunches that day, the children were provided party food. The kitchen workers squeezed countless oranges and grapefruit to make gallons of juice and a special treat, popcorn, for the day's festivities. Whether on a school day or a festive one, these ladies provide a true labor of love for those they serve.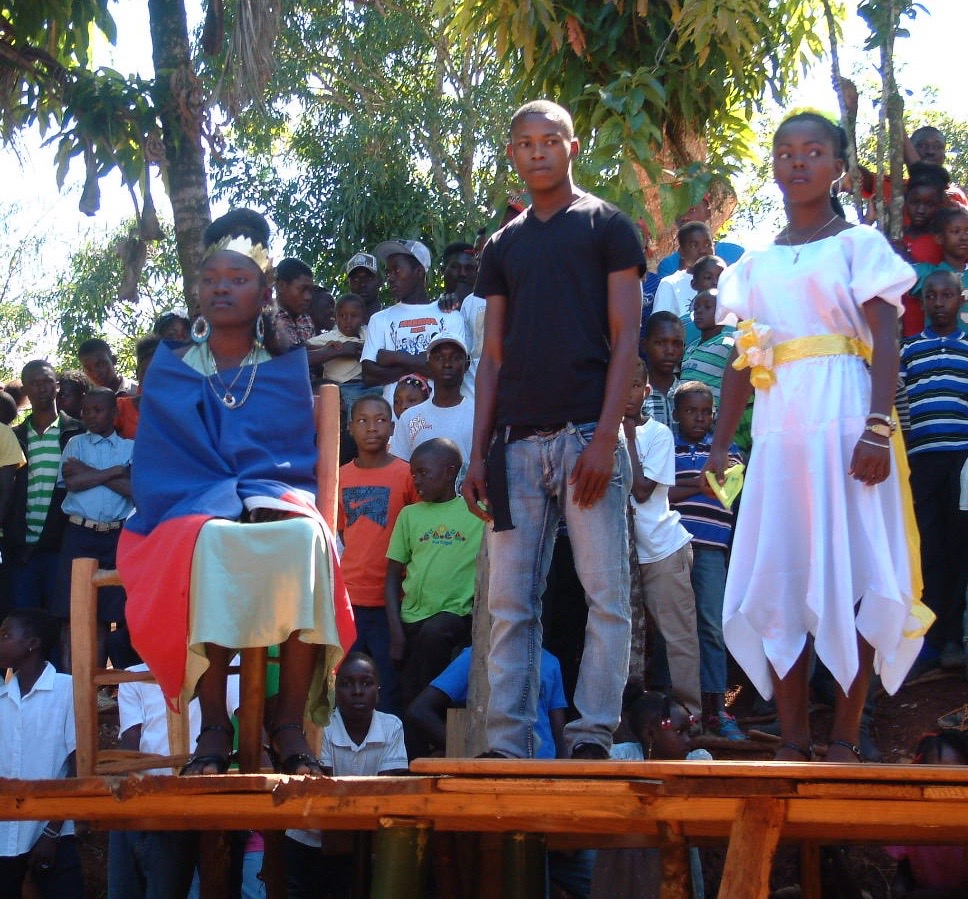 It was a day set aside for celebrating. The teens performed a skit retelling the history of Haiti. There was beautiful singing and amazing Caribbean and contemporary dancing. The good sisters prepared a lovely lunch at their residence and answered numerous questions about their school programs. Later in the day Délina, one of the nurses working at the local dispensary, also met with the SIJ team and was pleased to receive the anti-mosquito products. While she was unfamiliar with the Zika virus at that time, it's comforting to know that it has not reached Chenot to date in spite of some cases in Haiti. The day ended with a small drink of rum and a few rousing games of Dominoes, but some tired travellers made it an early evening retiring to their humble but comfortable quarters.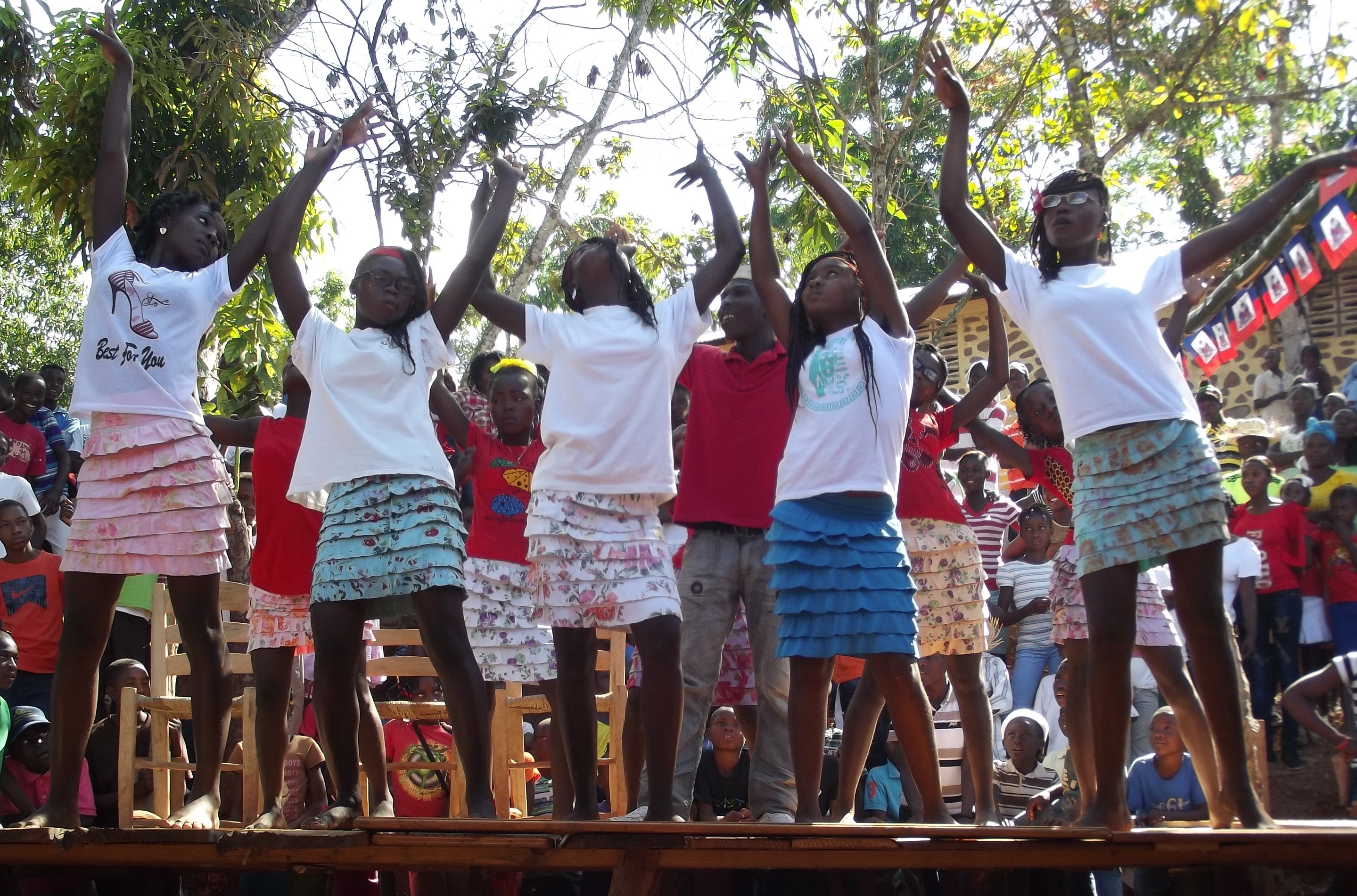 Saturday, February 6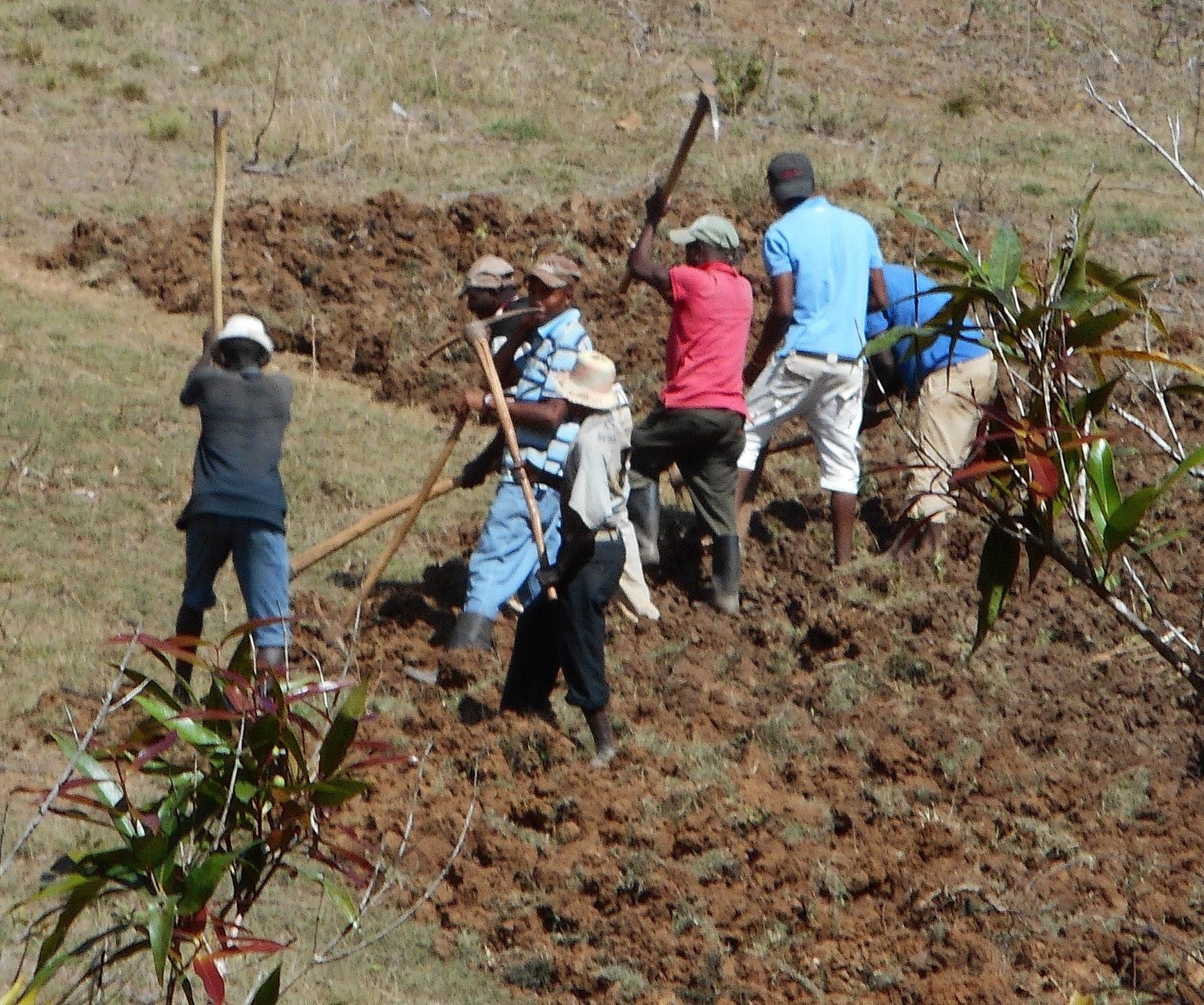 Days begin well before sunrise for the locals in Chenot. Water had been carried for the visitors' use and breakfast provided on the rectory porch. Debbie observed people passing the church carrying bags and baskets of fruits and vegetables and their wares, but always stopping briefly to bless themselves. Such reverence typifies the people of Chenot that God is the main focus even in the midst of the busy workday. Fr. Jude was at work, too, interviewing 3 engaged couples and teaching them Church doctrine on Marriage Pre-Cana style. While the interviews were being held, the choir was in the church rehearsing for Sunday Mass—a different place, a different language and different faces, but not so different from any Catholic church anywhere in its nature and nurture of her universal family. Later in the day the team visited the dispensary and discovered a young mother there to get her child her well- baby shots. Another injured patient was stitched and given antibiotics. While medical supplies were scarce, it was encouraging to see preventative medicine being practiced in remote Chenot. Not far away the team observed about ten men combining efforts to plow a field with hand tools. They sang and worked together in a beautiful spirit of community.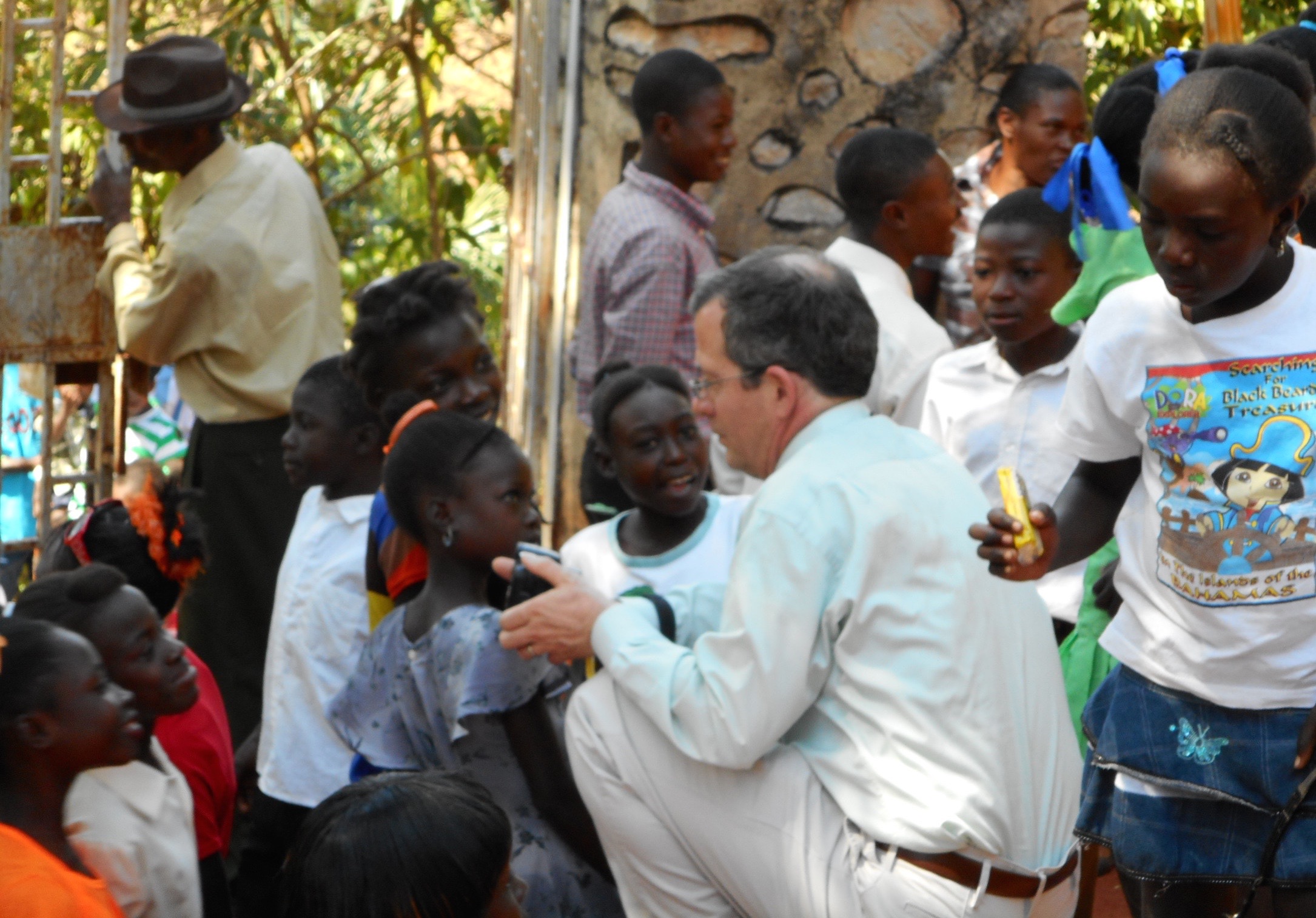 The afternoon provided an opportunity to learn a little more about the vocational school where SIJ visitors discovered that the women were in desperate need of replacement parts for their only treadle sewing machine. Sr. Emilie also explained the need for an industrial treadle that could handle heavier fabrics. Photos of the machine, its belts and bobbin casements were taken in the hopes the SIJ ministry could find these necessities. A meeting with the elementary school teachers revealed their desire for additional laptops for teacher use and their dream for a school library. Their principal later distributed a gift of $20 to each specifically for classroom use from several anonymous benefactors and carried by the SIJ team.
Dinner was made up of a variety of vegetables and some of the more delicate portions of the goat that were perhaps too exotic for some. Wilbert and Délina played some Caribbean music and danced a bit; then the Dominoes' games began, but by 10 P.M. everyone had retired—completely exhausted.
Sunday, February 7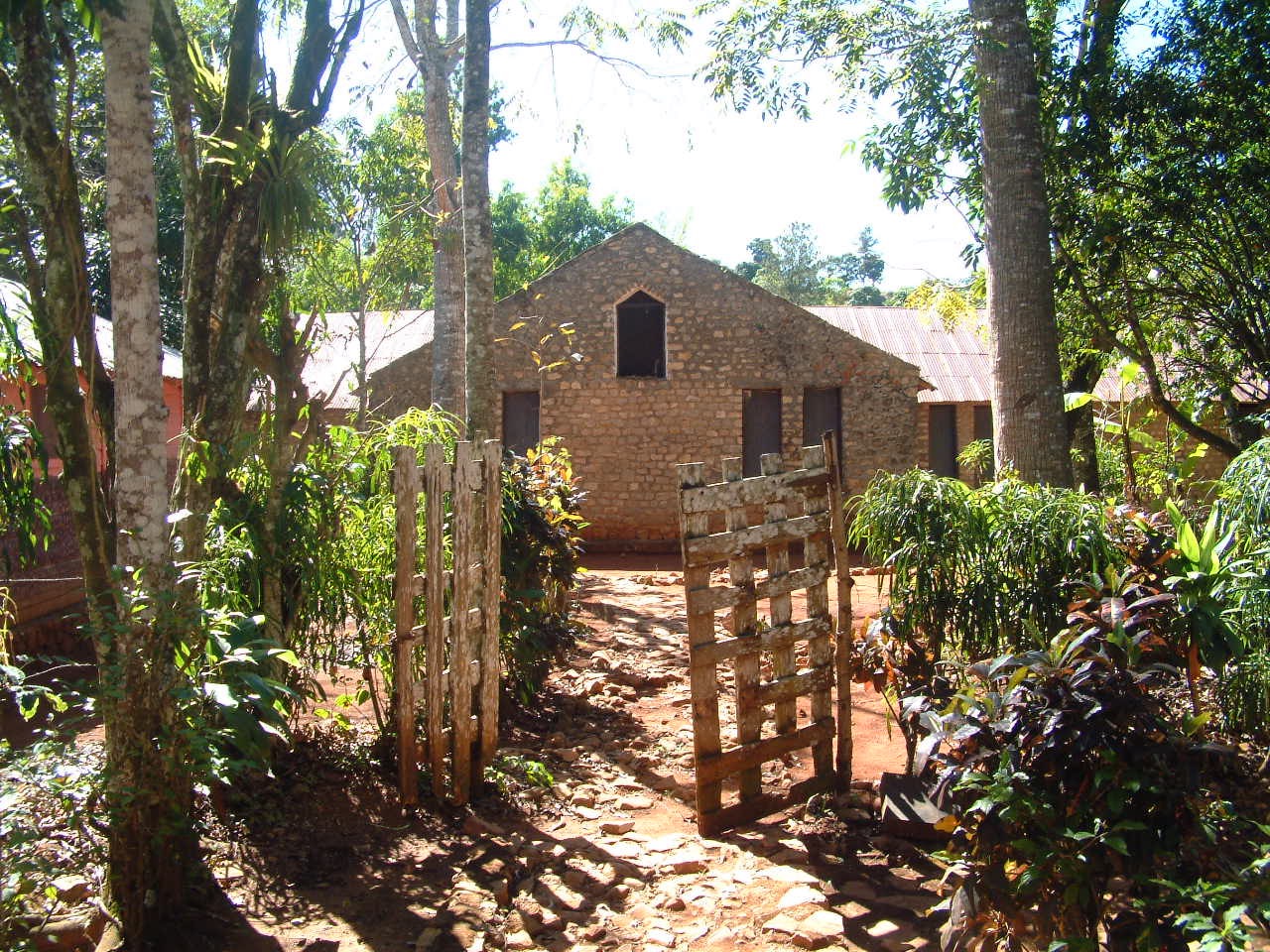 Breakfast was a bit more hurried and church bells began ringing at 8;00, 8:15, 8:30, 8:45 and 9:00 to alert the faithful of 9:30 Holy Mass. Sean and Frank wore shirts and ties, and Debbie wore a dress, and it was a good thing as they were tapped to be Extraordinary Ministers that morning. Fr. Jude appeared before mass wearing his beautifully pressed new vestments from Fr. Steven.
In church there was much spirited singing led by the choir under Wilbert's direction, but the whole congregation joined in full force. And drums offered the musical backbone. Two altar servers, a teenaged boy and girl, assisted at various points throughout mass and received the collection from those lined up to drop their gifts in yellow fabric bags giving from the little they had. Communion was just as orderly and reverent.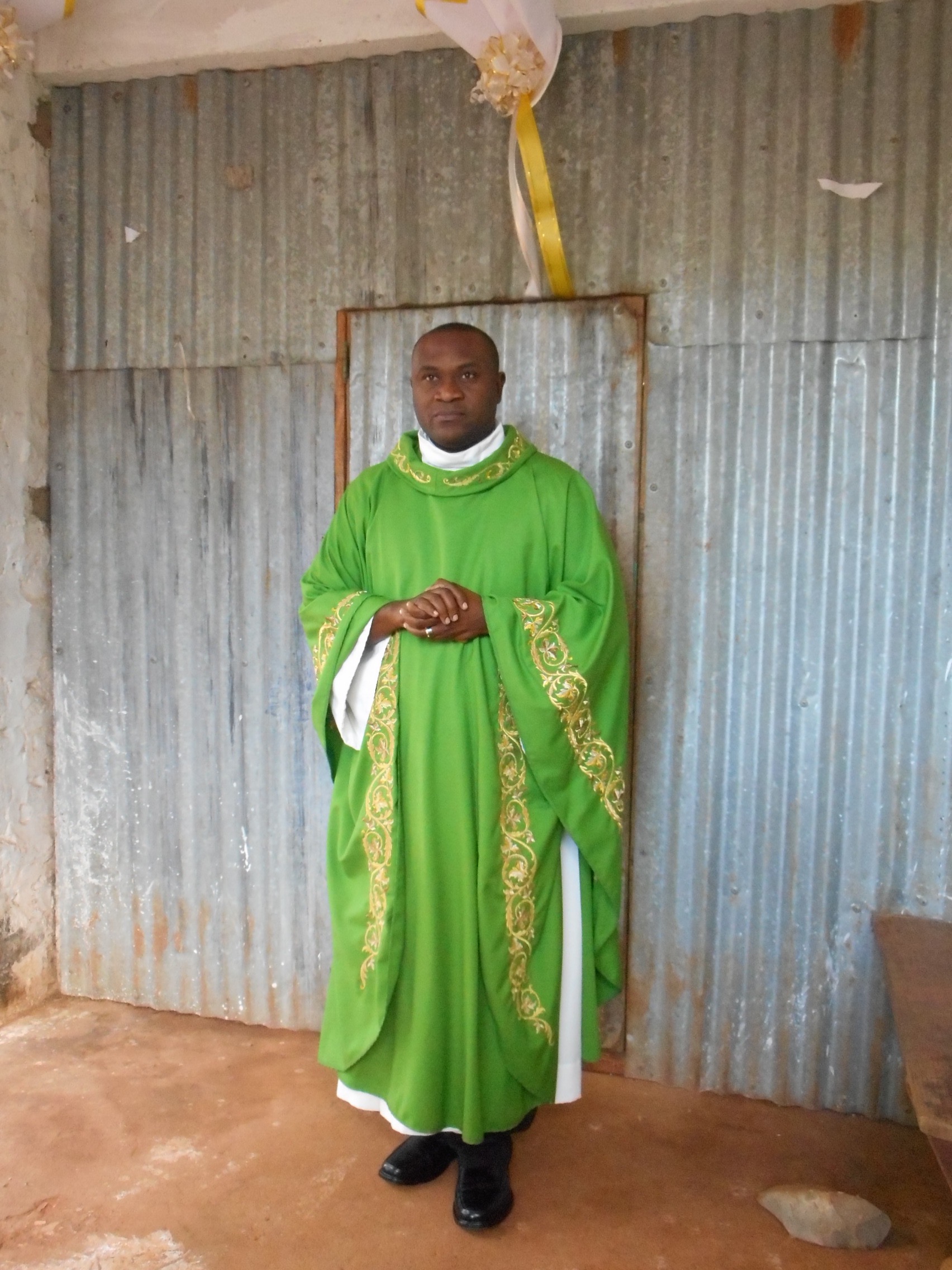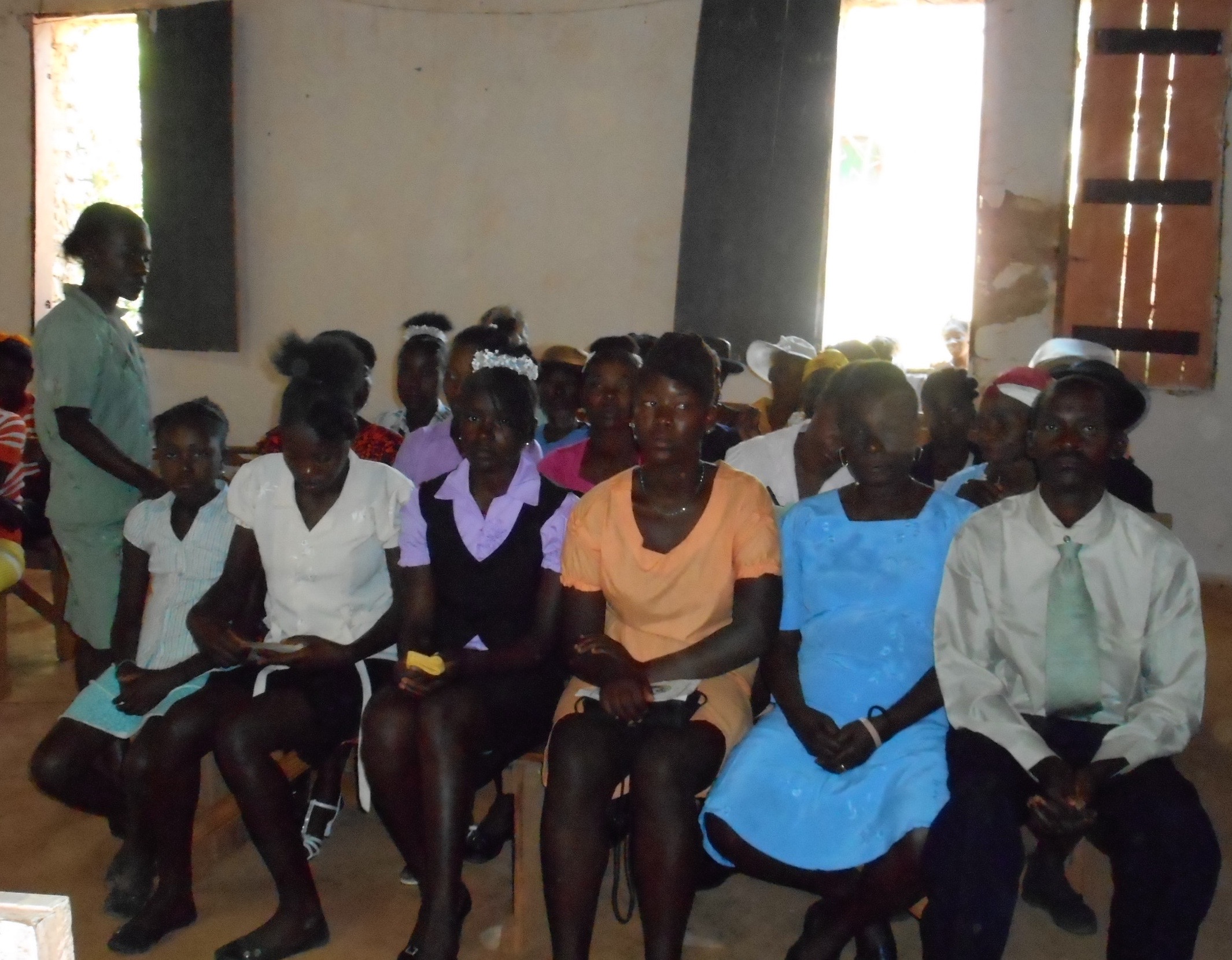 Haitian masses usually run longer than their American counterparts, and it was not unusual for Fr. Jude to offer a 30-minute homily, and after mass again address his congregation. He introduced the visitors from St. Isaac Jogues and invited Frank to read Fr. Steven's message in French to them while he translated it into Creole. He also asked for a show of representatives from the outlying chapelles, and large delegations from five of the seven were present, one from a 4-hour's walk away. (These sacristans installed at each of the satellite chapels assist their pastor enormously in serving his flock's spiritual and material needs.) SAH parishioners were eager to greet their special guests after mass, some even warmly embracing or reaching out to take their hands and kiss them. Their gratitude for the sister parish relationship and all that it does for their children was simply overwhelming and emotional. Education is moving forward at the Notre Dame School. Even new classrooms have been added since the last SIJ visit. Lunch was late because mass ran until nearly noon, and SAH parishioners lingered enjoying each other's company after mass, too. And once again a thoughtful, delicious meal of fresh salads and beans and rice and goat was prepared in the guests' honor when they returned to the rectory.

Although Sunday was meant as a day of rest and refreshment, 5 A.M. would come quickly, Fr. Jude reminded everyone, and the first walk of the return trip would begin in the dark in order to stay on schedule for Monday's flight home. Their driver would be waiting for them near BelAir at 7:30 to take them to Port-au-Prince by way of Desarmes. With that thought, everyone turned in early.
Monday, February 8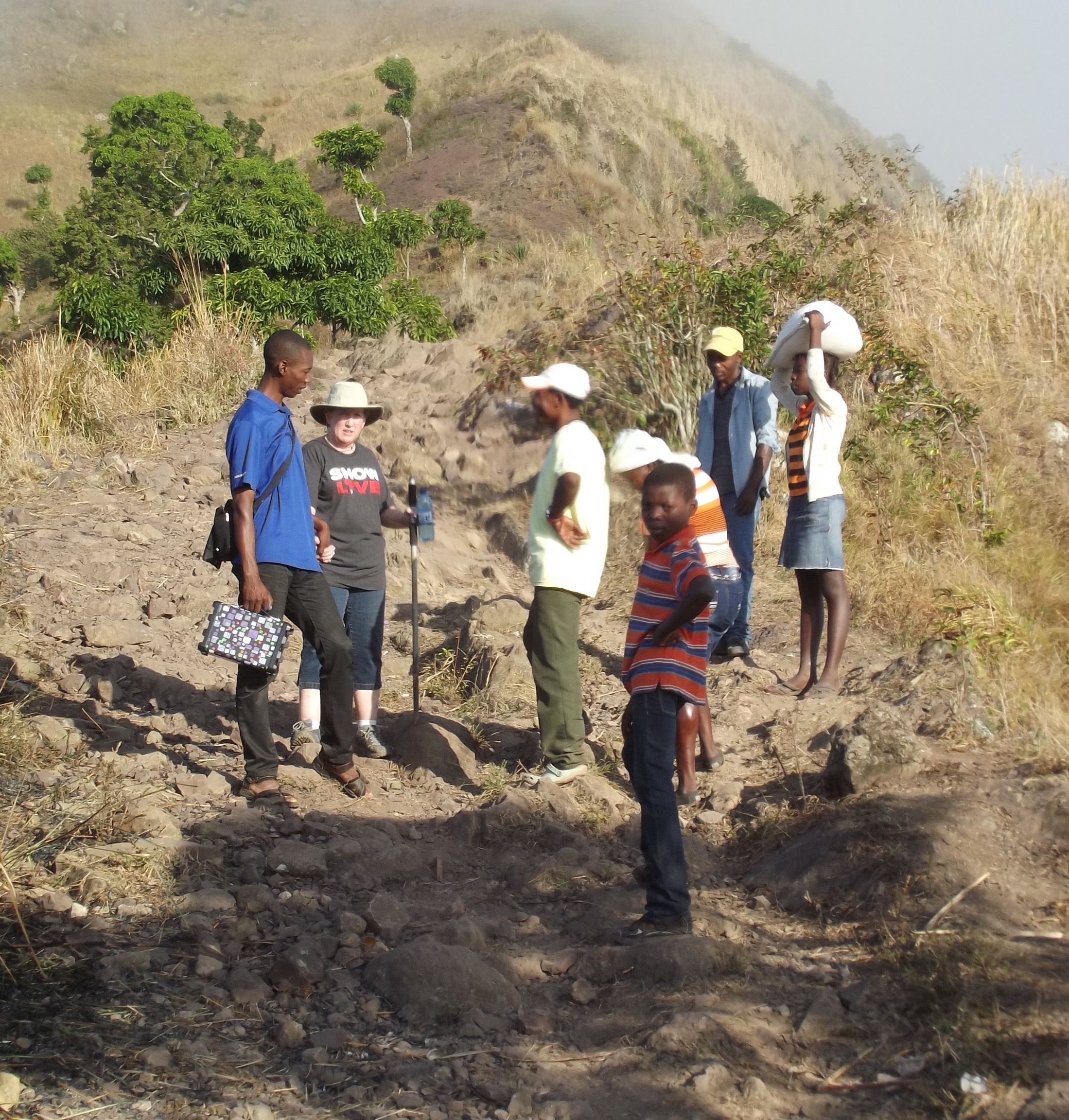 The morning wake-up call was the sound of the generator coming to life. After a quick breakfast of coffee, fig bananas, cheese and peanut butter bread, bearers arrived to carry bags to BelAir. Fr. Jude would travel this first lap by horse with a mule carrying several items to his father's home. Wilbert remained as trusted guide and assistant this time bringing along walking sticks for the returning travellers. There were fond good-byes at the convent and then the long walk in the chilly morning air.
As scheduled, the "Jeep' was waiting to take them on to Petite-Rivière, but this time with Sr. Pauline joining the group on the bumpy ride as far as Desarmes for a doctor's appointment and Fr. Jude driving to his father's home once again where Debbie, Frank and Sean had a chance to use his (cold water) showers and enjoy a pleasant lunch. At each stop, one passenger was dropped off and another picked up. Dieumène, Fr. Jude's ward, debarked in Desarmes while a new passenger boarded and rode as far as St. Marc. Nothing, including transportation, goes to waste in Haiti. En route Fr. Jude kept an ear to the radio. February 8th was the day President Martelly would make his farewell speech to the nation and vacate his presidential office. Once again elections had been rescheduled, but thankfully, no serious political demonstrations disrupted the capital. And because "Père Jude" accompanied his guests to the Departures door of the Toussaint L'Ouverture Airport, they were treated like VIPs and ushered directly to the American Airlines window without delay. There was even time to relax and enjoy a cool beverage before boarding the flight for Miami and to admire the thoughtful gifts of Haitian craftsmanship that their wonderful host had presented to them.