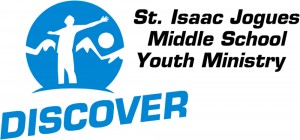 St. Isaac Jogues Youth Ministry strives to empower young people to live as Disciples of Christ in our world today. We hope to foster the total personal and spiritual growth of each young person. Drop-ins are held regularly. Together we learn about our faith and have some fun.
For young people in grades 5 to 8, the Middle School Youth Ministry serves to introduce younger adolescents to a broader experience of the faith community. All young people in the parish are invited to participate in a wide range of activities designed specifically for middle-schoolers, their friends, and families. Every other Monday (excluding holidays) we host a Middle School Drop-in every other Tuesday from 5 PM – 6:30 PM in the Kateri Room. During our Drop-ins, we eat pizza, enjoy games, and talk about some aspect of the Bible.
Here is a list of dates for our Middle School Drop-in nights.
Middle School Events :
Check out our Middle School Facebook group.
Follow us on Instagram.
---
Contact:
Jessica Schlee: jschlee@sij.org
410-661-4888
Keep in touch with our Middle School program with MailChimp