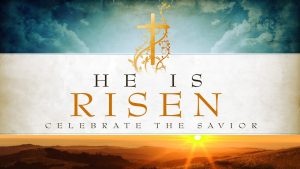 The Season of Easter
How important is the Season of Easter?
The Easter Season celebrates the 50 days that Jesus was on the Earth after His resurrection. The seven Sundays of Easter celebrate the resurrection at each Mass, meaning there is not one Easter Sunday, but 7 Easter Sundays. (No, this does not mean that you need to get seven Easter baskets.) We celebrate the Lord's defeat of death, breaking of the bonds of sin, and the opening of the gates of Heaven. It is a time to truly rejoice. He is risen indeed!
Have you ever noticed that it is always written, "He is risen" and not "He has risen"? While it may catch the eye of grammarians, there is a reason for this wording. Jesus does not rise in the past, but rather we celebrate that he is the Risen Christ. Christ rose so that we may share in eternity with Him. He is the Risen Christ, our Risen Savior. He was born Emmanuel (meaning: God with us), and rose from the dead so that we may be with God; forever!
Who Do You Say That I AM?
Who is Jesus? There have been many debates throughout the centuries about who Jesus is. Is He God? Is He a prophet? is He simply a historical figure? This series of videos helps us to answer that question from the perspective of those that knew Him or encountered Him.
The Disciple

Bartimaeus

Claudia (Pilot's Wife)

Mary Magdalene

Matthias