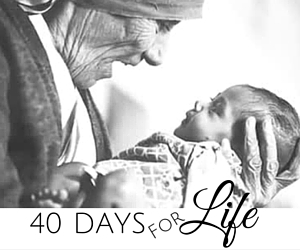 40 Days for Life is a campaign to end abortion. Volunteers sign up for an hour to peacefully stand on the corner and pray for an end of abortion.
Vigil location: sidewalk in front of the Beltway Plaza, 7600 Belair Rd.
Vigil hours: 7:00 am to 7:00 pm, 7 days a week
When: March 1 through April 9
Contact:
John and Maryann Nietubicz: manietubicz@verizon.net
Local 40 Days Website
We are also in need of people to agree to set aside an hour a week to pray from home. This is perfect for those whose schedule doesn't allow you to participate, or are a bit uncomfortable with standing on the corner this year. For more information on prayers for each day of the 40 Days, please follow this link.
40 Days For Life Promo Video