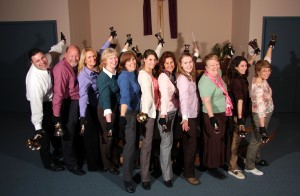 The SIJ Ringers is a multigenerational group of musicians, grade 5 to adult, that enhances our special liturgical celebrations by ringing praise to the Lord! St. Isaac Jogues is blessed to have 3 octaves of handbells, as well as 3 octaves of handchimes, both made by Malmark. The Ringers play at Masses and other special parish events. Throughout the year, they also collaborate with other musical ensembles in celebrating special times of the church year.
Rehearsals: The Handbell Choir practices on Monday evenings.
Click HERE to download the St. Isaac Jogues Ringers flyer.
---
Contact:
Maggie Gerstmyer: mkahl@sij.org