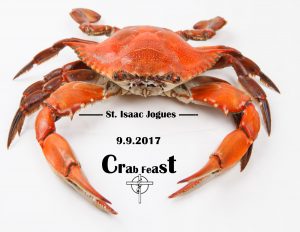 SIJ Crab Feast
For the benefit of the parish
SATURDAY SEPTEMBER 9, 2017
ST. ISAAC JOGUES' CHURCH HALL
7 PM to 11 PM
$47.00 PER PERSON or $450 FOR A TABLE OF 10 (must be purchased all at once)
MENU: PIT BEEF, HAM & TURKEY, STEAMED CRABS,
CREAM OF CRAB SOUP, SWEET ITALIAN SAUSAGE, BUFFALO WINGS, CHILI, ZUCCHINI & TOMATOES, MACARONI & CHEESE,
CORN ON THE COB, TOSSED GARDEN SALAD
FRUIT, CHEESE & CRACKERS, VEGGIES, CAKE
ICED TEA, COFFEE, COKE PRODUCTS, MILLER LITE & YUENGLING
CATERED BY ATLANTIC CATERERS
Entertainment, Big Six, Chinese Raffle, 50/50 and more
TICKETS ARE AVAILABLE AT THE PARISH OFFICE
TABLES OF TEN MAY BE RESERVED.
TICKETS MUST BE PURCHASED IN ADVANCE
FOR MORE INFORMATION CONTACT:
Darlene Gerstmyer at dgerstmyer@rowles.com or 410-882-2197
Jon Gerstmyer at jgerstmyer@sij.org
We need your help!
During the Crab Feast, we have wheels, raffles, and a silent auction. It items that stock these fundraisers has been donated in the past. If you would like to make a donation, please see the list below for ideas of items for which we are looking. For more information, please contact dgerstmyer@rowles.com
Wheels: Cakes (donated the week of the event), wine, liquor or cordials, six packs of your favorite beverage.
Raffle/Auction: New items such as cookbooks, glassware, kitchen gadgets, cash (so that we can put it together and purchase a larger item), sports memorabilia, wine tasting events, gift cards, passes to events, sports event tickets.
We could also use your help during the event. We need people to staff the wheels, take tickets at the door, and sell 50/50 raffle tickets. If you can give us an hour of your time during the event, please let us know.