SIJ Online
Join us each day of the week as we broadcast Mass, the Divine Mercy Chaplet, and Night Prayer right to your device.  During this unprecedented time, SIJ Online is here to help our parish family stay together while we practice social distancing.  Please know of our prayers for all of our parishioners during this time, and we cannot wait for the joy of seeing us all in St. Isaac Jogues again soon!

Watch live Monday through Friday
9:00 am – Daily Mass in the church
During the month of October
Live-Streamed Rosary on our Facebook page.
Monday through Friday – 6:30 pm
Saturdays and Sundays – 12:00 pm
Weekend Mass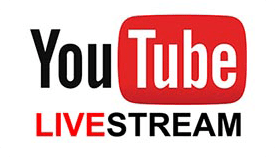 Masses are celebrated on the front lawn of the church.  Please remember to bring a chair or blanket (and a water bottle, if needed).  There are white squares painted on the lawn to allow for proper social distancing.  Masks are strongly encouraged, but not required.  In the event of heat or poor weather conditions, Mass will be relocated into the church building.
Saturdays – 4:00 pm
Sundays – 7:30 am, 9:00 am*, 10:30 am, and 5:30 pm
*Live Streamed
Online Giving
Now that Masses are being streamed online, our collection will be virtual as well.  Many have asked the best way to continue to support St. Isaac Jogues during this time.  While our campus is closed for the health and safety of our parishioners and staff, our expenses still continue (HVAC, staff salaries, maintenance, utilities, etc.).  We know that this pandemic has had an effect on our parish family in many different ways.  We ask that you prayerfully consider your ability to still financially support your parish during this time as well.  Your stewardship is very important to our continued mission and greatly appreciated.  If you would prefer to use your envelopes, you can mail them in to the parish office.

St. Isaac Jogues has an app!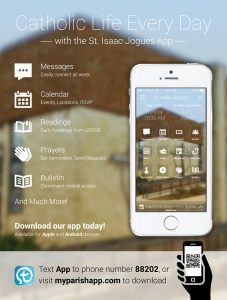 Free Apps
Laudate – Laudate gives you the daily Liturgy of the Hours, Prayers, Order of the Mass, Rosaries and chaplets, Stations of the Cross, and much more.  Click to download on an Apple product or an Android device.
iBreviary – iBreviary offers you the Liturgy of the Hours, Roman Missal, daily Readings, Prayers, and different Rites and Blessings.  Click to download on an Apple product or an Android device.
Pray! – Pray!  is a Catholic app that is a must-have for anyone who is highly devoted to their Catholic faith and who finds comfort in praying whenever you need to. It is a complete prayer app that includes a number of novenas, including the Catholic Rosary, St. Benedict, St. Joseph, St. Francis of Assisi and many more.  Click to download on an Apple product or an Android device.
CALive! – CALive, also known as Catholic Answers Live, is a great app that connects the listener to leaders of the church. It is a daily two-hour radio show that airs five days per week from Monday to Friday. Hosted by Cy Kellett, Catholic Answers Live is ranked as the favorite Catholic station in the United States. Listen to a discussion about a variety of topics, from evangelization to social issues to doctrinal controversies. Click to download on an Apple product or an Android device.